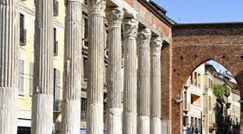 ROMAN MILANO
Guided tour to discover the lesser-known Milan
We will visit the remains of the Roman Theater kept in the basement of Palazzo Mezzanotte, seat of the Milan Chamber of Commerce, we will see the ancient Roman buildings up close and we will discover how the theatrical performances took place.
We will look out in the archaeological area of Via Brisia.
A journey of about 2 hours through the history of Milan, the capital of the Roman Empire for over two centuries.
We will conclude the tour in the courtyard of the archaeological museum where we will discover how much of the ancient Roman circus has been transformed to become an integral part of the ancient monastery of San Maurizio.
PROGRAM:
09:00: Departure from Ispra (CLUB HOUSE)
11:00: Guided Tour
13.00: Free Time
15:30: Departure to Ispra
Price: € 15.00
Book Online from your own account.