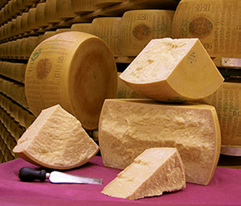 VISIT and TASTING
PARMESAN CHEESE
&
PARMA
Guided tour of the Bertinelli farm with tasting
The Bertinelli Farm has been the home of Parmigiano Reggiano since 1895, unique in its kind: complete control of the milk production chain and the only producer of Millesimato Parmigiano Reggiano and Kosher Parmigiano Reggiano.
Guided tour of the city of PARMA
PROGRAM:
08:30: Departure from Ispra (CLUB HOUSE)
11:00: Guided tour and tasting
13:00: Lunch
15:30: Guided tour of the center of Parma
18:00: Departure for Ispra
Price
< 10 years € 25,00
Adults € 50,00
ATTENTION: YOU MUST BOOK ONLINE IN ADVANCE!
Or pre-register as soon as possible on WhatsApp +39 335 6611627.